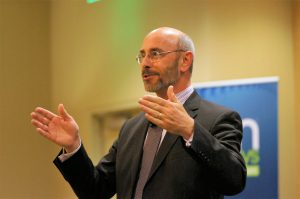 Jim Sterne, Speaker, Author, Consultant
Jim Sterne is a professional explainer.
Book a Keynote
Commission a White Paper
Schedule a Workshop
Jim Sterne focuses his thirty-five years in sales and marketing on creating and strengthening customer relationships through digital communications. He sold business computers to companies that had never owned one in the 1980's, consulted and keynoted about online marketing in the 1990's, founded the eMetrics Summit and the Marketing Evolution Experience conferences, and co-founded the Digital Analytics Association in the 2000's and has just published his twelfth book, Artificial Intelligence for Marketing: Practical Applications.
Jim is on the advisory boards of a half a dozen organizations and is always interested in the latest promise of technology for improving the customer experience.
You can reach him at jsterne@targeting.com