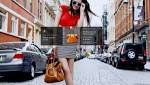 More retailers are turning to artificial intelligence to help shoppers find clothes that fit their bodies, budgets, and personal styles. As one of today's hottest technology trends, AI translates vast volumes of retail data into rich, actionable insights so executives can make smart decisions faster.
AI has evolved into a strategic asset in retail even as the sector faces overwhelming upheaval. AI guides retailers by delivering fact-based intelligence to help them better serve shoppers. This gives retailers a leg up in a market full of empowered consumers who expect omnichannel excellence, affordable fashions, and personalized marketing.
The bottom line is that AI is the future of retail, and executives must learn how to leverage artificial intelligence technologies to compete in today's market.
Read the rest here: AI could become your personal shopper  VentureBeat
Includes:
1. Finding the "look" faster
2. Providing hyper-personal product recommendations
3. Implementing unprecedented omnichannel service
4. Social selling
5. Shopping like a personal stylist
6. Spotting new trends
7. Setting the right price
This was originally published from: https://venturebeat.com/2017/09/24/ai-could-become-your-personal-shopper/ on