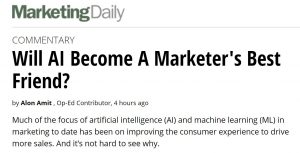 Much of the focus of artificial intelligence (AI) and machine learning (ML) in marketing to date has been on improving the consumer experience to drive more sales. And it's not hard to see why.
Data-fueled algorithms that continuously learn and improve are making consumer recommendations more personalized and precise than ever before. Today, shoppers see helpful and timely recommendations as they finalize their Amazon carts; news junkies finish reading one online piece and find several related stories of interest presented below it; Netflix surfers browse "Because you watched XYZ" lists to find shows and movies closely aligned with their specific interests.
Yet despite these advancements, marketers still largely hold myopic views of AI. To truly harness its power, they must start thinking beyond the consumer. It is time for marketers to focus on how AI can improve their own experiences as marketing professionals and help them do their jobs more efficiently and effectively.
Read the rest here: Will AI Become A Marketer's Best Friend?  MediaPost Communications
This was originally published from: https://www.mediapost.com/publications/article/307807/will-ai-become-a-marketers-best-friend.html on