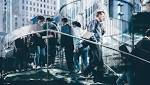 This is the best time in human history to be a consumer. From stumbling upon new shows via Netflix' recommendation engine, exploring virtual worlds through Oculus, getting to where you need to go faster without looking at a map, or having pressing questions answered by an autonomous assistant — these solutions are most likely powered by cognitive platforms; systems that can learn, adapt and optimize outcomes in real time. Even more mundane tasks like visiting the doctor and driving cars incorporate predictive technology powered by artificial intelligence (AI)–and they're transforming the way we discover our world and interact with each other.
All these changes swirling around us also make it a remarkable time to be a marketer. Brands need adaptive solutions to prepare them for a more intelligent and connected future. Brands that embrace tools that openly connect them to consumers and other ecosystems will have more control, deliver more innovative solutions and continue to achieve the best results. Intelligent brands put both data and decisioning in their hands in order to contribute to the process of building products that consumers want.
Read the rest here: The Age of Intelligent Brands  HuffPost
Includes:
Brands of the future will be living services
Brands will need to move away from using walled gardens
Brands need to build open connected ecosystems
Connected platforms power the future of brands
Brands need to build intelligent marketing stacks
The stack of the future amplifies intelligence, and allows marketers to be more creative and dynamic than ever before. Data-driven creative powered by AI is the next generation of personalization. I call this deep personalization, and it provides intelligent consumer experiences by combining creative and contextual attributes with over a trillion ad server signals . This platform of the future discovers affinity toward a brand and products, and makes data actionable by revealing hidden connections that deliver more relevant, more engaging, individualized branded experiences.
This was originally published from: http://www.huffingtonpost.com/entry/the-age-of-intelligent-brands_us_59d3abd0e4b043b4fb095c94 on