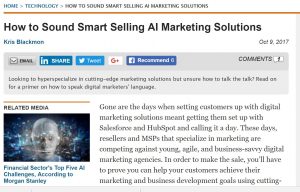 Gone are the days when setting customers up with digital marketing solutions meant getting them set up with Salesforce and HubSpot and calling it a day. These days, resellers and MSPs that specialize in marketing are competing against young, agile, and business-savvy digital marketing agencies. In order to make the sale, you'll have to prove you can help your customers achieve their marketing and business development goals using cutting-edge technology.
Marketing isn't just a job function; it's a science, and not an easy one. Digital marketers have to be up-to-speed on a host of automation, big data, and e-commerce trends, and know how to leverage technology to achieve both micro and macro goals. They have to know how to implement agile and iterative processes to meet a set of constantly changing key performance indicators (KPIs), as well as how to support sales and operational goals.
In short, marketers have to be experts in consumer technology, emerging platforms, and pop psychology—and if you want to sell to them, so do you. It isn't an easy play, but armed with the right knowledge and tools, partners looking to specialize in marketing line of business (LOB) functions can learn to speak marketers' language.
Read the rest here: How to Sound Smart Selling AI Marketing Solutions  The VAR Guy
Includes:
A (Very) Brief History of AI
Advancing Marketing Science with AI
     Problem: Pre-qualifying leads
     Problem: Creating compelling content
     Problem: A/B testing consuming too many resources
Are Robots the Marketers of Tomorrow?
This was originally published from: http://thevarguy.com/technology/how-sound-smart-selling-ai-marketing-solutions on