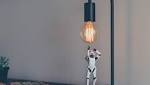 Customer experience initiatives are getting stuck with quite a few weighty labels lately: next key battleground, primary competitive differentiator, table stakes. And momentum for this topic is not slowing anytime soon.
My ongoing personal survey of CMOs and industry analysts continues to land customer experience within the top three marketing and digital transformation priorities this year, as it did last year and the year before that. So it's no wonder companies are looking for every advantage to make their customer experience processes "smarter."
Enter machine learning (ML) and cognitive computing. Several years ago, IDC posited that by 2018 half of all consumers would interact with services based on cognitive computing on a regular basis — and we are well on the way to validating that prediction. ShortStack projected that machine learning and the associated automation technologies would get significant attention from marketers this year with an estimated 300 percent increase over last year in marketing spend and this is holding true as well.
Read the rest here: Machine Learning Ushers in a New Era of Customer Experience  CMSWire
This was originally published from: http://www.cmswire.com/customer-experience/machine-learning-ushers-in-a-new-era-of-customer-experience/ on