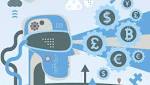 Before anyone has had a chance to figure out their artificial intelligence strategy or augmented reality plan this year, along comes the blockchain to suck all the buzzword-filled air out of the room. But blockchain may have a bigger impact than anything marketers have encountered since the advent of the internet.
Defining "blockchain" in 2017 is akin to defining the internet in the early 1990s. Most people still can't clearly describe what the internet is, but they know it is the backbone of the Web, email, streaming video, and mobile apps. Blockchain technically describes blocks of data strung together as a distributed ledger running over a peer-to-peer network that authenticates and protects the data. In practice, people will become familiar with blockchain through its uses, such as payments, identity verification, and others.
Here are 27 ways marketers and advertisers can expect to use blockchain. Some of these challenges are already being tackled by various technology firms through other means. While ad and identity verification aren't new, this list shows the Swiss army knife versatility of blockchain. In some ways, blockchain applications will create entirely new solutions to marketers' challenges, while other applications will aim to solve problems in ways that are arguably more impervious to fraud, more reliable, or better in some other way. If buyers (across brands and agencies) and sellers (across media and technology companies) can agree on the same blockchain standards, it may reduce the need for many third parties—and leave a path of creative destruction in its wake.
Read the whole list here: Twenty-Seven Ways Marketers Can Use Blockchain  AdAge.com
This was originally published from: http://adage.com/article/digitalnext/twenty-ways-marketers-blockchain/311105/ on