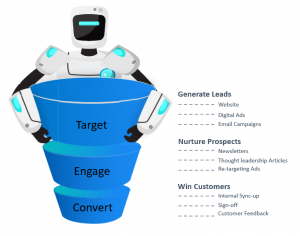 "I believe this artificial intelligence is going to be our partner. If we misuse it, it will be a risk. If we use it right, it can be our partner" – Masayoshi Son, Chief Executive Officer of SoftBank
Digital technology has evolved in every aspect – mobility, cloud, IoT and now it is the era of Artificial Intelligence (AI). AI not only has influenced businesses but also affected individuals. Choosing the digital path, organizations, worldwide have gained immensely by improving operational efficiency, increasing staff productivity, streamlining business processes, achieving better customer satisfaction, thus leading to significant revenue growth.
Artificial Intelligence has gained a lot of traction due to its adoption by businesses across every industry vertical. Banking, insurance, mortgage, manufacturing, healthcare, retail, telecom are some of the popular industries leveraging AI. Within these industries, AI is being applied in underwriting, loan processing, creating new bank accounts, patients' applications processing, data migration, lead generation (sales & marketing), customer service etc. The use cases are boundless!
Any task that can replace humans to process critical but repetitive tasks using robots and machine learning platforms leverages Artificial Intelligence.
Enable Marketing Robots to Acquire Customers
AI is Uplifting Marketing, And that's a Good thing!
Let's think of a real-life scenario, which counters every industry vertical. For Example, how marketers can use Artificial Intelligence in demand generation and acquire new customers.
Marketers, to generate better leads and to enhance sales effectiveness should implement AI in their marketing strategy. You can enable robots to walk you through the sales process/funnel in a systematic approach, thus build your sales pipeline. This not only reduces human dependency and errors, but also accelerates your sales growth.
Typically, there are three stages in converting an unknown visitor to a customer. To find out how a robot can do this, continue to read this article.
Target
Enable your robot to spread awareness among your target audience. The robot can:
Build your lead database by researching and scrapping through external sites for the criteria set as per your target audience. Schedule email campaigns (using pre-defined templates) for the target audience. Reach out to your website visitors (chatbot) and address their queries (24X7). Finally, send prospect details to your customer relationship management (CRM) software for future records. After analysing the data, the robot can group the leads into multiple categories such as nurturing, warm and hot leads.
Engage
Program your robot to nurture your prospects. The robot can:
Scan through your CRM, analyse the prospects list and send newsletters, videos, case studies and thought leadership articles, periodically. Assign the warm/hot leads to sales team (auto trigger) for further follow-up over calls. Retarget. Display advertisement banners with dynamic positioning messages, especially for the prospects who visit your corporate website and social media sites. Message should be customizable as per your prospect profile for better conversions.
Convert
This is the final stage of your visitor/prospect transitioning into your customer. The robot can:
Set a reverse trigger. Get the sales team to send you the lead status report via email.
You will learn from the robots about which leads have converted to customer and which leads need to be nurtured, further.
Shorten Your Sales Cycle
These stages sound simple. However, the sales cycle will vary based on the service/product you offer. Rest assured, enabling robots to acquire customers will improve productivity and streamline the entire sales process. You will have shorter sales cycle and increase your chances to win new customers.
This is the idealistic approach. While all the stages in the sales funnel are definitely working in isolation by the robots, the day is not too far when, the end-to-end sales process will be handled by robots. This will be a reality soon.
There will come a day when content will also be written by robots. Lot of work is already happening in this space.
And, you don't need to stop here. You can enable your robot to schedule a call or send an email to your customer to capture feedback about your service/product. You can work with the project team to execute as per the feedback for better customer retention. Alwyas remember, it takes months to find a customer and just few seconds to lose one.
This was originally published from: https://www.bbntimes.com/en/technology/leverage-artificial-intelligence-to-build-your-sales-pipeline on