No Results Found
The page you requested could not be found. Try refining your search, or use the navigation above to locate the post.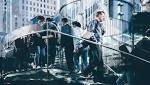 This is the best time in human history to be a consumer. From stumbling upon new shows via Netflix' recommendation engine, exploring virtual worlds through Oculus, getting to where you need to go faster without looking at a map, or having pressing questions...
Subscribe to our Newsletter
Weekly(ish) updates about AI and machine learning for marketing, handpicked by Jim Sterne. Who's doing what, how it's working and how to make the most of it – hold that math.